Shopping Cart
Your Cart is Empty
There was an error with PayPal
Click here to try again
Thank you for your business!
You should be receiving an order confirmation from Paypal shortly.
Exit Shopping Cart
| | |
| --- | --- |
| Posted on September 7, 2016 at 1:50 AM | |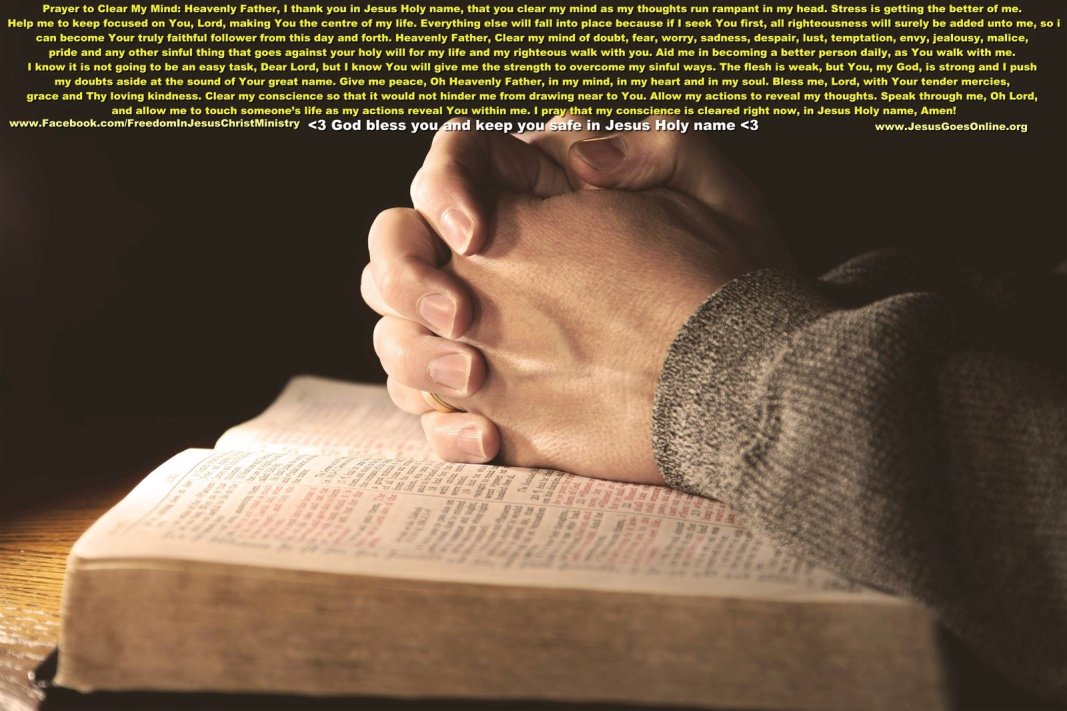 Prayer to Clear My Mind:
Heavenly Father, I thank you in Jesus Holy name, 
that you clear my mind as my thoughts 
run rampant in my head. 
Stress is getting the better of me. 
Help me to keep focused on You, 
Lord, making You the centre of my life. 
Everything else will fall into place 
because if I seek You first, 
all righteousness will surely be added unto me, 
so i can become Your truly faithful 
follower from this day and forth.
"And herein do I exercise myself, to have always a 
conscience void to offence toward God, and toward men." 
Acts 24:16 King James Version (KJV)
Heavenly Father, Clear my mind of doubt, fear, worry, 
sadness, despair, lust, temptation, envy, jealousy, malice, 
pride and any other sinful thing that goes against your 
holy will for my life and my righteous walk with you.
Aid me in becoming a better person daily, 
as You walk with me. 
I know it is not going to be an easy task, Dear Lord, 
but I know You will give me the strength 
to overcome my sinful ways.
The flesh is weak, but You, my God, 
is strong and I push my doubts aside 
at the sound of Your great name.
"Do all things without murmurings and disputings:
That ye may be blameless and harmless, 
the sons of God, without rebuke, 
in the midst of a crooked and perverse nation, 
among whom ye shine as lights in the world;" 
Philippians 2:14-15 King James Version (KJV)
Give me peace, Oh Heavenly Father, in my mind, 
in my heart and in my soul. Bless me, 
Lord, with Your tender mercies, 
grace and Thy loving kindness. 
Clear my conscience so that it would not 
hinder me from drawing near to You. 
Allow my actions to reveal my thoughts. 
Speak through me, Oh Lord, 
and allow me to touch someone's life as 
my actions reveal You within me. 
I pray that my conscience is cleared right now, 
in Jesus Holy name, Amen!
"Blessed is he whose transgression is forgiven, 
whose sin is covered. 
Blessed is the man unto whom 
the Lord imputeth not iniquity, 
and in whose spirit there is no guile."
Psalm 32:1-2 King James Version (KJV)
<3 God bless you and keep you safe in Jesus Holy name <3
Jesus, Jesus saves, Jesus is Lord, Holy Spirit, JesusGoesOnline, Dag Hoiland, Anytown, 
MA, God, Gospel, Salvation, Jesus Christ, Gud, Frelse, Kristen webshop, demon, demons, 
T-Shirt High Quality,  serve God, we serve God, the Philippines, Nigeria, Kenya, Uganda, Indonesia, Norge, Norway, Sverige, Sweden, DagHöiland, Dag Høiland, www.Facebook.com, Facebook, Viet-Nam, Viet Nam, www.Facebook.com/FreedomInJesusChristMinistry
Categories: Prayer
/