Shopping Cart
Your Cart is Empty
There was an error with PayPal
Click here to try again
Thank you for your business!
You should be receiving an order confirmation from Paypal shortly.
Exit Shopping Cart
| | |
| --- | --- |
| Posted on August 11, 2016 at 3:06 PM | |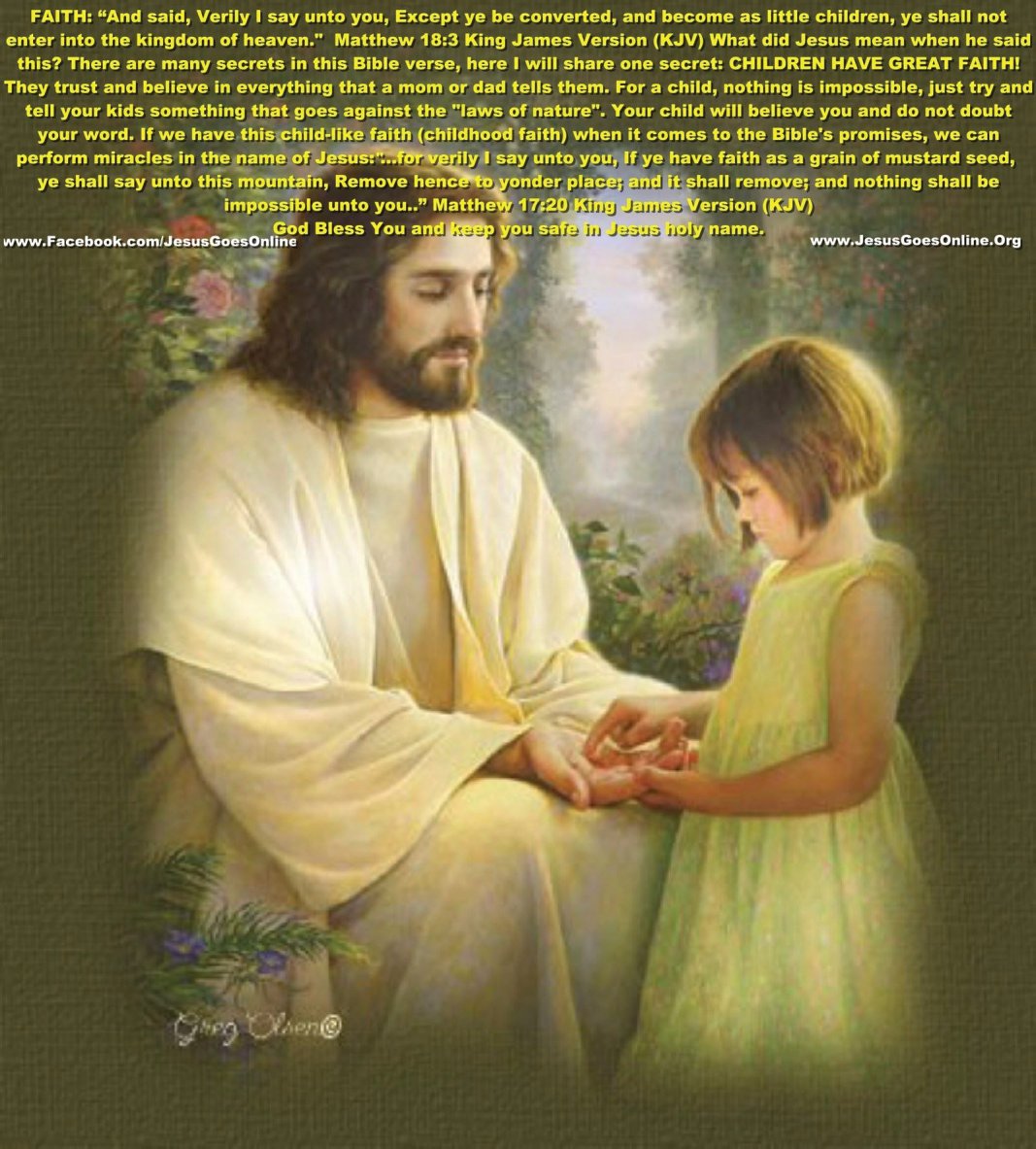 FAITH:
"And said, Verily I say unto you, 
Except ye be converted, 
and become as little children, 
ye shall not enter into the kingdom of heaven."
Matthew 18:3 King James Version (KJV)
What did Jesus mean 
when he said this?
There are many secrets 
in this Bible verse, 
here I will share one secret:
CHILDREN HAVE GREAT FAITH!
They trust and believe in everything 
that a mom or dad tells them. 
For a child, nothing is impossible, 
just try and tell your kids something 
that goes against the "laws of nature". 
Your child will believe you and 
do not doubt your word. 
If we have this child-like faith (childhood faith)
when it comes to the Bible's promises, 
we can perform miracles in the name of Jesus:
..."for verily I say unto you, 
If ye have faith as a grain of mustard seed, 
ye shall say unto this mountain, 
Remove hence to yonder place; 
and it shall remove; 
and nothing shall be impossible unto you.."
Matthew 17:20 King James Version (KJV)
God Bless You and keep you safe in Jesus holy name  <3 :)
# JesusGoesOnline, Dag Hoiland, Anytown, MA, God, Jesus, Holy Spirit, Gospel, Salvation, Jesus Christ, Gud, Frelse, Kristen webshop, demon, demons, T-Shirt High Quality, 
Categories: Pictures with Christian text.
/