Shopping Cart
Your Cart is Empty
There was an error with PayPal
Click here to try again
Thank you for your business!
You should be receiving an order confirmation from Paypal shortly.
Exit Shopping Cart
| | |
| --- | --- |
| Posted on June 28, 2016 at 6:31 AM | |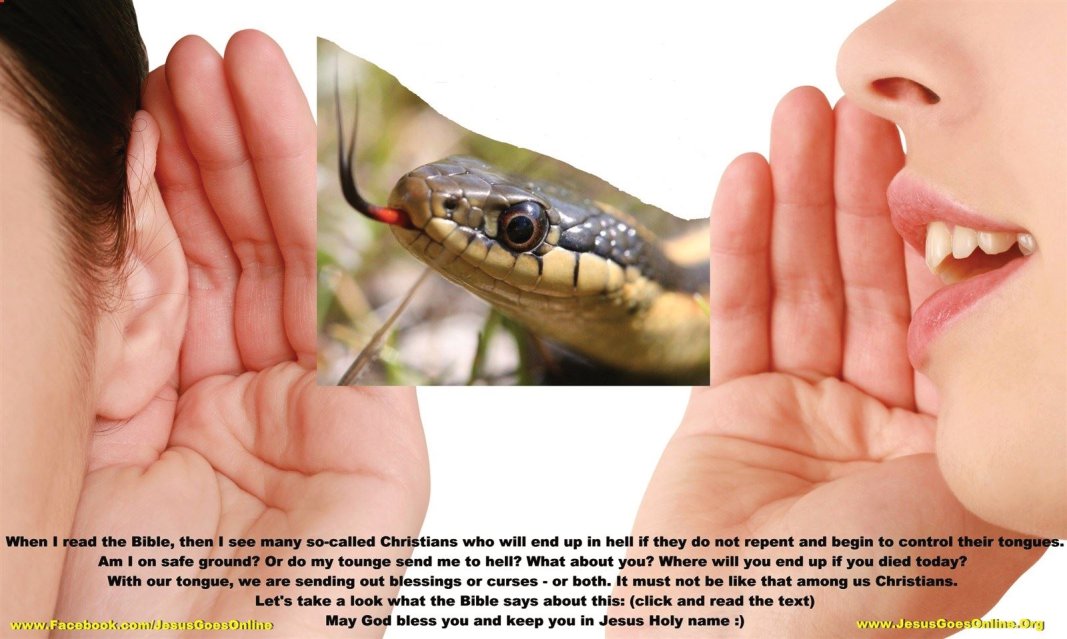 When I read the Bible, then I see many so-called Christians
who will end up in hell if they do not repent and begin to 
control their tongues. Am I on safe ground? 
Or do my tounge send me to hell? What about you? 
Where will you end up if you died today? 
With our tongue, we are sending 
out blessings or curses - or both. 
It must not be like that among us Christians.
Let's take a look what the Bible says about this:
If any man among you seem to be religious, 
and bridleth not his tongue, 
but deceiveth his own heart, this man's religion is vain.
James 1:26 King James Version (KJV)
But the tongue can no man tame; it is an unruly evil, 
full of deadly poison.
James 3:8 King James Version (KJV)
A false witness shall not be unpunished, 
and he that speaketh lies shall not escape.
Proverbs 19:5 King James Version (KJV)
But I say unto you, That every idle word that men shall speak, 
they shall give account thereof in the day of judgment.
Matthew 12:36 King James Version (KJV)
Let no corrupt communication proceed out of your mouth, 
but that which is good to the use of edifying, 
that it may minister grace unto the hearers.
Ephesians 4:29 King James Version (KJV)
A froward man (or woman) soweth strife: 
and a whisperer separateth chief friends.
Proverbs 16:28 King James Version (KJV)
These six things doth the Lord hate: yea, 
seven are an abomination unto him:
A proud look, a lying tongue, 
and hands that shed innocent blood,
An heart that deviseth wicked imaginations, 
feet that be swift in running to mischief,
A false witness that speaketh lies, 
and he that soweth discord among brethren.
Proverbs 6:16-19 King James Version (KJV)
Whoso keepeth his mouth and his tongue 
keepeth his soul from troubles.
Proverbs 21:23 King James Version (KJV)
The words of a talebearer are as wounds, 
and they go down into the innermost parts of the belly.
Proverbs 18:8 King James Version (KJV)
Keep thy tongue from evil, 
and thy lips from speaking guile.
Psalm 34:13 King James Version (KJV)
Whoso privily slandereth his neighbour, 
him will I cut off: 
him that hath an high look and a 
proud heart will not I suffer.
Psalm 101:5 King James Version (KJV)
To speak evil of no man, to be no brawlers, 
but gentle, shewing all meekness unto all men.
Titus 3:2 King James Version (KJV)
He that goeth about as a talebearer revealeth secrets: 
therefore meddle not with him that flattereth with his lips.
Proverbs 20:19 King James Version (KJV)
Where no wood is, there the fire goeth out: 
so where there is no talebearer, the strife ceaseth.
Proverbs 26:20 King James Version (KJV)
A wicked doer giveth heed to false lips; 
and a liar giveth ear to a naughty tongue.
Proverbs 17:4 King James Version (KJV)
Speak not evil one of another, brethren. 
He that speaketh evil of his brother, 
and judgeth his brother, speaketh evil of the law, 
and judgeth the law: 
but if thou judge the law, thou art not a doer of the law, 
but a judge.
James 4:11 King James Version (KJV)
A talebearer revealeth secrets: 
but he that is of a faithful spirit concealeth the matter.
Proverbs 11:13 King James Version (KJV)
But shun profane and vain babblings: 
for they will increase unto more ungodliness.
2 Timothy 2:16 King James Version (KJV)
Thou shalt not go up and down as a 
talebearer among thy people: 
neither shalt thou stand against the blood of thy neighbour; 
I am the Lord.
Leviticus 19:16 King James Version (KJV)
He that hideth hatred with lying lips, 
and he that uttereth a slander, is a fool.
Proverbs 10:18 King James Version (KJV)
Being filled with all unrighteousness, fornication, 
wickedness, covetousness, maliciousness; full of envy, 
murder, debate, deceit, malignity; whisperers,
Backbiters, haters of God, despiteful, proud, boasters, 
inventors of evil things, disobedient to parents,
Without understanding, covenantbreakers, 
without natural affection, implacable, unmerciful:
Who knowing the judgment of God, 
that they which commit such things are worthy of death, 
not only do the same, 
but have pleasure in them that do them.
Romans 1:29-32 King James Version (KJV)
Thou shalt not raise a false report: 
put not thine hand with the wicked 
to be an unrighteous witness.
Exodus 23:1King James Version (KJV)
And withal they learn to be idle, 
wandering about from house to house; and not only idle, 
but tattlers also and busybodies, 
speaking things which they ought not.
1 Timothy 5:13 King James Version (KJV)
He that covereth a transgression seeketh love; 
but he that repeateth a matter separateth very friends.
Proverbs 17:9 King James Version (KJV)
Hide me from the secret counsel of the wicked; 
from the insurrection of the workers of iniquity:
Who whet their tongue like a sword, 
and bend their bows to shoot their arrows, 
even bitter words:
That they may shoot in secret at the perfect: 
suddenly do they shoot at him, and fear not.
Psalm 64:2-4 King James Version (KJV)
Thou shalt not bear false witness against thy neighbour.
Exodus 20:16 King James Version (KJV)
Finally, brethren, whatsoever things are true, 
whatsoever things are honest, 
whatsoever things are just, whatsoever things are pure, 
whatsoever things are lovely, 
whatsoever things are of good report; if there be any virtue, 
and if there be any praise, think on these things.
Philippians 4:8 King James Version (KJV)
Though I speak with the tongues of men and of angels, 
and have not charity, 
I am become as sounding brass, or a tinkling cymbal.
And though I have the gift of prophecy, 
and understand all mysteries, and all knowledge; 
and though I have all faith, 
so that I could remove mountains, 
and have not charity, I am nothing.
And though I bestow all my goods to feed the poor, 
and though I give my body to be burned, 
and have not charity, it profiteth me nothing.
Charity suffereth long, and is kind; charity envieth not; 
charity vaunteth not itself, is not puffed up,
Doth not behave itself unseemly, seeketh not her own, 
is not easily provoked, thinketh no evil;
Rejoiceth not in iniquity, but rejoiceth in the truth;
Beareth all things, believeth all things, hopeth all things, 
endureth all things.
Charity never faileth: but whether there be prophecies, 
they shall fail; whether there be tongues, 
they shall cease; whether there be knowledge, 
it shall vanish away.
For we know in part, and we prophesy in part.
But when that which is perfect is come, 
then that which is in part shall be done away.
When I was a child, I spake as a child, 
I understood as a child, 
I thought as a child: but when I became a man, 
I put away childish things.
For now we see through a glass, darkly; 
but then face to face: now I know in part; 
but then shall I know even as also I am known.
And now abideth faith, hope, charity, these three; 
but the greatest of these is charity.
1 Corinthians 13:1-13 King James Version (KJV)
For I fear, lest, when I come, 
I shall not find you such as I would, 
and that I shall be found unto you such as ye would not: 
lest there be debates, 
envyings, wraths, strifes, backbitings, 
whisperings, swellings, tumults:
2 Corinthians 12:20 King James Version (KJV)
And that ye study to be quiet, 
and to do your own business, 
and to work with your own hands, 
as we commanded you;
1 Thessalonians 4:11 King James Version (KJV)
Let all bitterness, and wrath, and anger, and clamour, 
and evil speaking, be put away from you, with all malice:
Ephesians 4:31 King James Version (KJV)
But speaking the truth in love, 
may grow up into him in all things, 
which is the head, even Christ: 
From whom the whole body fitly joined together and 
compacted by that which every joint supplieth, 
according to the effectual working in the measure of every part, 
maketh increase of the body unto the edifying of itself in love.
Ephesians 4:15-16 King James Version (KJV)
The words of a talebearer are as wounds, 
and they go down into the innermost parts of the belly.
Proverbs 26:22 King James Version (KJV)
He that dwelleth in the secret place of the most High shall 
abide under the shadow of the Almighty.
I will say of the Lord, He is my refuge and my fortress: 
my God; in him will I trust.
Surely he shall deliver thee from the snare of the fowler, 
and from the noisome pestilence.
He shall cover thee with his feathers, 
and under his wings shalt thou trust: 
his truth shall be thy shield and buckler.
Thou shalt not be afraid for the terror by night; 
nor for the arrow that flieth by day;
Nor for the pestilence that walketh in darkness; 
nor for the destruction that wasteth at noonday.
A thousand shall fall at thy side, 
and ten thousand at thy right hand; 
but it shall not come nigh thee.
Only with thine eyes shalt thou behold and see 
the reward of the wicked.
Because thou hast made the Lord, which is my refuge, 
even the most High, thy habitation;
There shall no evil befall thee, 
neither shall any plague come nigh thy dwelling.
For he shall give his angels charge over thee, 
to keep thee in all thy ways.
They shall bear thee up in their hands, 
lest thou dash thy foot against a stone.
Thou shalt tread upon the lion and adder: 
the young lion and the dragon shalt thou trample under feet.
Because he hath set his love upon me, 
therefore will I deliver him: 
I will set him on high, because he hath known my name.
He shall call upon me, and I will answer him: 
I will be with him in trouble; I will deliver him, 
and honour him.
With long life will I satisfy him, and shew him my salvation.
Psalm 91:1-16 King James Version (KJV)
In the multitude of words there wanteth not sin: 
but he that refraineth his lips is wise.
Proverbs 10:19 King James Version (KJV)
The vision of Isaiah the son of Amoz, 
which he saw concerning Judah and Jerusalem 
in the days of Uzziah, Jotham, Ahaz, and Hezekiah, 
kings of Judah.
Hear, O heavens, and give ear, O earth: 
for the Lord hath spoken, 
I have nourished and brought up children, 
and they have rebelled against me.
The ox knoweth his owner, and the ass his master's crib: 
but Israel doth not know, my people doth not consider.
Ah sinful nation, a people laden with iniquity, 
a seed of evildoers, children that are corrupters: 
they have forsaken the Lord, 
they have provoked the Holy One of Israel unto anger, 
they are gone away backward.
Why should ye be stricken any more? 
ye will revolt more and more: 
the whole head is sick, and the whole heart faint.
From the sole of the foot even unto the head there is 
no soundness in it; but wounds, 
and bruises, and putrifying sores: they have not been closed, 
neither bound up, neither mollified with ointment.
Your country is desolate, 
your cities are burned with fire: your land, 
strangers devour it in your presence, 
and it is desolate, as overthrown by strangers.
And the daughter of Zion is left as a cottage in a vineyard, 
as a lodge in a garden of cucumbers, as a besieged city.
Except the Lord of hosts had left unto us a 
very small remnant, we should have been as Sodom, 
and we should have been like unto Gomorrah.
Hear the word of the Lord, ye rulers of Sodom; 
give ear unto the law of our God, ye people of Gomorrah.
To what purpose is the multitude of your sacrifices unto me? 
saith the Lord: 
I am full of the burnt offerings of rams, and the fat of fed beasts; 
and I delight not in the blood of bullocks, or of lambs, 
or of he goats.
When ye come to appear before me, 
who hath required this at your hand, to tread my courts?
Bring no more vain oblations; 
incense is an abomination unto me; 
the new moons and sabbaths, 
the calling of assemblies, I cannot away with; it is iniquity, 
even the solemn meeting.
Your new moons and your appointed feasts my soul hateth: 
they are a trouble unto me; I am weary to bear them.
And when ye spread forth your hands, 
I will hide mine eyes from you: 
yea, when ye make many prayers, I will not hear: 
your hands are full of blood.
Wash you, make you clean; 
put away the evil of your doings from before mine eyes; 
cease to do evil;
Learn to do well; seek judgment, relieve the oppressed, 
judge the fatherless, plead for the widow.
Come now, and let us reason together, saith the Lord: 
though your sins be as scarlet, 
they shall be as white as snow; 
though they be red like crimson, they shall be as wool.
If ye be willing and obedient, 
ye shall eat the good of the land:
But if ye refuse and rebel, 
ye shall be devoured with the sword: 
for the mouth of the Lord hath spoken it.
How is the faithful city become an harlot! 
it was full of judgment; 
righteousness lodged in it; but now murderers.
Thy silver is become dross, thy wine mixed with water:
Thy princes are rebellious, and companions of thieves: 
every one loveth gifts, 
and followeth after rewards: they judge not the fatherless, 
neither doth the cause of the widow come unto them.
Therefore saith the Lord, the Lord of hosts, 
the mighty One of Israel, Ah, 
I will ease me of mine adversaries, 
and avenge me of mine enemies:
And I will turn my hand upon thee, 
and purely purge away thy dross, 
and take away all thy tin:
And I will restore thy judges as at the first, 
and thy counsellors as at the beginning: 
afterward thou shalt be called, The city of righteousness, 
the faithful city.
Zion shall be redeemed with judgment, 
and her converts with righteousness.
And the destruction of the transgressors 
and of the sinners shall be together, 
and they that forsake the Lord shall be consumed.
For they shall be ashamed of 
the oaks which ye have desired, 
and ye shall be confounded for 
the gardens that ye have chosen.
For ye shall be as an oak whose leaf fadeth, 
and as a garden that hath no water.
And the strong shall be as tow, 
and the maker of it as a spark, 
and they shall both burn together, 
and none shall quench them.
Isaiah 1:1-31 King James Version (KJV)
There is therefore now no condemnation to them 
which are in Christ Jesus, 
who walk not after the flesh, but after the Spirit.
For the law of the Spirit of life in Christ Jesus hath 
made me free from the law of sin and death.
For what the law could not do, 
in that it was weak through the flesh, 
God sending his own Son in the likeness of sinful flesh, 
and for sin, condemned sin in the flesh:
That the righteousness of the law might be fulfilled in us, 
who walk not after the flesh, but after the Spirit.
For they that are after the flesh 
do mind the things of the flesh; 
but they that are after the Spirit the things of the Spirit.
For to be carnally minded is death; 
but to be spiritually minded is life and peace.
Because the carnal mind is enmity against God: 
for it is not subject to the law of God, 
neither indeed can be.
So then they that are in the flesh cannot please God.
But ye are not in the flesh, but in the Spirit, 
if so be that the Spirit of God dwell in you. 
Now if any man have not the Spirit of Christ, 
he is none of his.
And if Christ be in you, 
the body is dead because of sin; 
but the Spirit is life because of righteousness.
But if the Spirit of him that raised up 
Jesus from the dead dwell in you, 
he that raised up Christ from the dead shall also quicken 
your mortal bodies by his Spirit that dwelleth in you.
Therefore, brethren, we are debtors, not to the flesh, 
to live after the flesh.
For if ye live after the flesh, ye shall die: 
but if ye through the Spirit do mortify the deeds of the body, 
ye shall live.
For as many as are led by the Spirit of God, 
they are the sons of God.
For ye have not received the spirit of bondage again to fear; 
but ye have received the Spirit of adoption, 
whereby we cry, Abba, Father.
The Spirit itself beareth witness with our spirit, 
that we are the children of God:
And if children, then heirs; heirs of God, 
and joint-heirs with Christ; if so be that we suffer with him, 
that we may be also glorified together.
For I reckon that the sufferings of this present 
time are not worthy to be 
compared with the glory which shall be revealed in us.
For the earnest expectation of the creature 
waiteth for the manifestation of the sons of God.
For the creature was made subject to vanity, not willingly, 
but by reason of him who hath subjected the same in hope,
Because the creature itself also shall be delivered from 
the bondage of corruption 
into the glorious liberty of the children of God.
For we know that the whole creation groaneth and 
travaileth in pain together until now.
And not only they, but ourselves also, which have 
the firstfruits of the Spirit, 
even we ourselves groan within ourselves, 
waiting for the adoption, to wit, 
the redemption of our body.
For we are saved by hope: 
but hope that is seen is not hope: 
for what a man seeth, why doth he yet hope for?
But if we hope for that we see not, 
then do we with patience wait for it.
Likewise the Spirit also helpeth our infirmities: 
for we know not what we should pray for as we ought: 
but the Spirit itself maketh intercession for us 
with groanings which cannot be uttered.
And he that searcheth the hearts knoweth what is 
the mind of the Spirit, 
because he maketh intercession for the saints 
according to the will of God.
And we know that all things work together for good 
to them that love God, 
to them who are the called according to his purpose.
For whom he did foreknow, he also did predestinate 
to be conformed to the image of his Son, 
that he might be the firstborn among many brethren.
Moreover whom he did predestinate, 
them he also called: and whom he called, 
them he also justified: 
and whom he justified, them he also glorified.
What shall we then say to these things? 
If God be for us, who can be against us?
He that spared not his own Son, 
but delivered him up for us all, 
how shall he not with him also freely give us all things?
Who shall lay any thing to the charge of God's elect? 
It is God that justifieth.
Who is he that condemneth? 
It is Christ that died, yea rather, that is risen again, 
who is even at the right hand of God, 
who also maketh intercession for us.
Who shall separate us from the love of Christ? 
shall tribulation, or distress, or persecution, 
or famine, or nakedness, or peril, or sword?
As it is written, For thy sake we are killed all the day long; 
we are accounted as sheep for the slaughter.
Nay, in all these things we are more than conquerors 
through him that loved us.
For I am persuaded, that neither death, nor life, 
nor angels, nor principalities, nor powers, 
nor things present, nor things to come,
Nor height, nor depth, nor any other creature, 
shall be able to separate us from the love of God, 
which is in Christ Jesus our Lord.
Romans 8:1-39 King James Version (KJV)
Now faith is the substance of things hoped for, 
the evidence of things not seen.
For by it the elders obtained a good report.
Through faith we understand that the worlds 
were framed by the word of God, 
so that things which are seen were not made of things 
which do appear.
By faith Abel offered unto God a more excellent 
sacrifice than Cain, 
by which he obtained witness that he was righteous, 
God testifying of his gifts: 
and by it he being dead yet speaketh.
By faith Enoch was translated that he should not see death; 
and was not found, 
because God had translated him: 
for before his translation he had this testimony, 
that he pleased God.
But without faith it is impossible to please him: 
for he that cometh to God must believe that he is, 
and that he is a rewarder of them that diligently seek him.
By faith Noah, 
being warned of God of things not seen as yet, 
moved with fear, 
prepared an ark to the saving of his house; 
by the which he condemned the world, 
and became heir of the righteousness which is by faith.
By faith Abraham, 
when he was called to go out into a place which he should 
after receive for an inheritance, 
obeyed; and he went out, not knowing whither he went.
By faith he sojourned in the land of promise, 
as in a strange country, 
dwelling in tabernacles with Isaac and Jacob, 
the heirs with him of the same promise:
For he looked for a city which hath foundations, whose 
builder and maker is God.
Through faith also Sara herself received 
strength to conceive seed, 
and was delivered of a child when she was past age, 
because she judged him faithful who had promised.
Therefore sprang there even of one, 
and him as good as dead, 
so many as the stars of the sky in multitude, 
and as the sand which is by the sea shore innumerable.
These all died in faith, not having received the promises, 
but having seen them afar off, 
and were persuaded of them, and embraced them, 
and confessed that they were strangers and pilgrims 
on the earth.
For they that say such things declare plainly 
that they seek a country.
And truly, if they had been mindful of that 
country from whence they came out, 
they might have had opportunity to have returned.
But now they desire a better country, that is, an heavenly: 
wherefore God is not ashamed to be called their God: 
for he hath prepared for them a city.
By faith Abraham, when he was tried, offered up Isaac: 
and he that had received the promises offered up 
his only begotten son,
Of whom it was said, 
That in Isaac shall thy seed be called:
Accounting that God was able to raise him up, 
even from the dead; 
from whence also he received him in a figure.
By faith Isaac blessed Jacob and Esau 
concerning things to come.
By faith Jacob, when he was a dying, 
blessed both the sons of Joseph; 
and worshipped, leaning upon the top of his staff.
By faith Joseph, when he died, 
made mention of the departing of the children of Israel; 
and gave commandment concerning his bones.
By faith Moses, when he was born, 
was hid three months of his parents, 
because they saw he was a proper child; 
and they were not afraid of the king's commandment.
By faith Moses, when he was come to years, 
refused to be called the son of Pharaoh's daughter;
Choosing rather to suffer affliction with the people of God, 
than to enjoy the pleasures of sin for a season;
Esteeming the reproach of Christ greater riches 
than the treasures in Egypt: 
for he had respect unto the recompence of the reward.
By faith he forsook Egypt, not fearing the wrath of the king: 
for he endured, as seeing him who is invisible.
Through faith he kept the passover, 
and the sprinkling of blood, 
lest he that destroyed the firstborn should touch them.
By faith they passed through the Red sea as by dry land: 
which the Egyptians assaying to do were drowned.
By faith the walls of Jericho fell down, 
after they were compassed about seven days.
By faith the harlot Rahab perished not 
with them that believed not, 
when she had received the spies with peace.
And what shall I more say? 
for the time would fail me to tell of Gedeon, 
and of Barak, and of Samson, 
and of Jephthae; of David also, 
and Samuel, and of the prophets:
Who through faith subdued kingdoms, 
wrought righteousness, 
obtained promises, stopped the mouths of lions.
Quenched the violence of fire, 
escaped the edge of the sword, 
out of weakness were made strong, 
waxed valiant in fight, turned to flight 
the armies of the aliens.
Women received their dead raised to life again: 
and others were tortured, 
not accepting deliverance; 
that they might obtain a better resurrection:
And others had trial of cruel mockings and scourgings, 
yea, moreover of bonds and imprisonment:
They were stoned, they were sawn asunder, 
were tempted, were slain with the sword: 
they wandered about in sheepskins and goatskins; 
being destitute, afflicted, tormented;
(Of whom the world was not worthy:) 
they wandered in deserts, 
and in mountains, and in dens and caves of the earth.
And these all, having obtained a good report through faith, 
received not the promise:
God having provided some better thing for us, 
that they without us should not be made perfect.
Hebrews 11:1-40 King James Version (KJV)
Oh that my head were waters, 
and mine eyes a fountain of tears, 
that I might weep day and night for the slain of 
the daughter of my people!
Oh that I had in the wilderness a lodging 
place of wayfaring men; 
that I might leave my people, 
and go from them! for they be all adulterers, 
an assembly of treacherous men.
And they bend their tongues like their bow for lies: 
but they are not valiant for the truth upon the earth; 
for they proceed from evil to evil, 
and they know not me, saith the Lord.
Take ye heed every one of his neighbour, 
and trust ye not in any brother: 
for every brother will utterly supplant, 
and every neighbour will walk with slanders.
And they will deceive every one his neighbour, 
and will not speak the truth: 
they have taught their tongue to speak lies, 
and weary themselves to commit iniquity.
Thine habitation is in the midst of deceit; 
through deceit they refuse to know me, saith the Lord.
Therefore thus saith the Lord of hosts, 
Behold, I will melt them, and try them; 
for how shall I do for the daughter of my people?
Their tongue is as an arrow shot out; 
it speaketh deceit: 
one speaketh peaceably to his neighbour with his mouth, 
but in heart he layeth his wait.
Shall I not visit them for these things? saith the Lord: 
shall not my soul be avenged on such a nation as this?
For the mountains will I take up a weeping and wailing, 
and for the habitations of the wilderness a lamentation, 
because they are burned up, 
so that none can pass through them; 
neither can men hear the voice of the cattle; 
both the fowl of the heavens and the beast are fled; 
they are gone.
And I will make Jerusalem heaps, and a den of dragons; 
and I will make the cities of Judah desolate, 
without an inhabitant.
Jeremiah 9:1-11 King James Version (KJV)
The Lord is my shepherd; I shall not want.
He maketh me to lie down in green pastures: 
he leadeth me beside the still waters.
He restoreth my soul: 
he leadeth me in the paths of 
righteousness for his name's sake.
Yea, though I walk through the valley of the shadow of death, 
I will fear no evil: 
for thou art with me; 
thy rod and thy staff they comfort me.
Thou preparest a table before me 
in the presence of mine enemies: 
thou anointest my head with oil; my cup runneth over.
Surely goodness and mercy shall 
follow me all the days of my life: 
and I will dwell in the house of the Lord for ever.
Psalm 23:1-6 King James Version (KJV)
But let none of you suffer as a murderer, or as a thief, 
or as an evildoer, or as a busybody in other men's matters.
1 Peter 4:15 King James Version (KJV)
The earth is the Lord's, and the fulness thereof; 
the world, and they that dwell therein.
For he hath founded it upon the seas, 
and established it upon the floods.
Who shall ascend into the hill of the Lord? 
or who shall stand in his holy place?
He that hath clean hands, and a pure heart; 
who hath not lifted up his soul unto vanity, 
nor sworn deceitfully.
He shall receive the blessing from the Lord, 
and righteousness from the God of his salvation.
This is the generation of them that seek him, 
that seek thy face, O Jacob. Selah.
Lift up your heads, O ye gates; and be ye lift up, 
ye everlasting doors; 
and the King of glory shall come in.
Who is this King of glory? 
The Lord strong and mighty, 
the Lord mighty in battle.
Lift up your heads, O ye gates; even lift them up, 
ye everlasting doors; 
and the King of glory shall come in.
Who is this King of glory? The Lord of hosts, 
he is the King of glory. Selah.
Psalm 24:1-10 King James Version (KJV)
They say unto him, Master, 
this woman was taken in adultery, in the very act.
Now Moses in the law commanded us, 
that such should be stoned: but what sayest thou?
This they said, tempting him, 
that they might have to accuse him. 
But Jesus stooped down, 
and with his finger wrote on the ground, 
as though he heard them not.
So when they continued asking him, 
he lifted up himself, 
and said unto them, He that is without sin among you, 
let him first cast a stone at her.
And again he stooped down, 
and wrote on the ground.
And they which heard it, 
being convicted by their own conscience, 
went out one by one, 
beginning at the eldest, even unto the last: 
and Jesus was left alone, 
and the woman standing in the midst.
When Jesus had lifted up himself, 
and saw none but the woman, he said unto her, 
Woman, where are those thine accusers? 
hath no man condemned thee?
John 8:4-10 King James Version (KJV)
Thou givest thy mouth to evil, 
and thy tongue frameth deceit.
Thou sittest and speakest against thy brother; 
thou slanderest thine own mother's son.
These things hast thou done, and I kept silence; 
thou thoughtest that I was altogether such an one as thyself: 
but I will reprove thee, 
and set them in order before thine eyes.
Now consider this, ye that forget God, 
lest I tear you in pieces, and there be none to deliver.
Whoso offereth praise glorifieth me: 
and to him that ordereth his conversation aright 
will I shew the salvation of God.
Psalm 50:19-23 King James Version (KJV)
And the Lord God said unto the woman, 
What is this that thou hast done? 
And the woman said, The serpent beguiled me, 
and I did eat.
Genesis 3:13 King James Version (KJV)
Blessed is the man that walketh 
not in the counsel of the ungodly, 
nor standeth in the way of sinners, 
nor sitteth in the seat of the scornful.
But his delight is in the law of the Lord; 
and in his law doth he meditate day and night.
And he shall be like a tree planted by the rivers of water, 
that bringeth forth his fruit in his season; 
his leaf also shall not wither; 
and whatsoever he doeth shall prosper.
The ungodly are not so: 
but are like the chaff which the wind driveth away.
Therefore the ungodly shall not stand in the judgment, 
nor sinners in the congregation of the righteous.
For the Lord knoweth the way of the righteous:
but the way of the ungodly shall perish.
Psalm 1:1-6 King James Version (KJV)
The thief cometh not, 
but for to steal, and to kill, and to destroy: 
I am come that they might have life, 
and that they might have it more abundantly.
John 10:10 King James Version (KJV)
And the King shall answer and say unto them, 
Verily I say unto you, 
Inasmuch as ye have done it unto one of the least 
of these my brethren, 
ye have done it unto me.
Matthew 25:40 King James Version (KJV)
Therefore, my brethren dearly beloved and longed for, 
my joy and crown, so stand fast in the Lord, 
my dearly beloved.
I beseech Euodias, and beseech Syntyche, 
that they be of the same mind in the Lord.
And I intreat thee also, true yokefellow, 
help those women which laboured with me in the gospel, 
with Clement also, and with other my fellowlabourers, 
whose names are in the book of life.
Rejoice in the Lord always: and again I say, Rejoice.
Let your moderation be known unto all men. 
The Lord is at hand.
Be careful for nothing; 
but in every thing by prayer and supplication with 
thanksgiving let your requests be made known unto God.
And the peace of God, which passeth all understanding, 
shall keep your hearts and minds through Christ Jesus.
Finally, brethren, whatsoever things are true, 
whatsoever things are honest, 
whatsoever things are just, whatsoever things are pure, 
whatsoever things are lovely, 
whatsoever things are of good report; 
if there be any virtue, 
and if there be any praise, think on these things.
Those things, which ye have both learned, and received, 
and heard, and seen in me, do: 
and the God of peace shall be with you.
But I rejoiced in the Lord greatly, 
that now at the last your care of me hath flourished again; 
wherein ye were also careful, but ye lacked opportunity.
Not that I speak in respect of want: for I have learned, 
in whatsoever state I am, therewith to be content.
I know both how to be abased, 
and I know how to abound: 
every where and in all things I am 
instructed both to be full and to be hungry, 
both to abound and to suffer need.
I can do all things through 
Christ which strengtheneth me.
Notwithstanding ye have well done, 
that ye did communicate with my affliction.
Now ye Philippians know also, 
that in the beginning of the gospel, 
when I departed from Macedonia, 
no church communicated with me as concerning 
giving and receiving, but ye only.
For even in Thessalonica ye sent once and again 
unto my necessity.
Not because I desire a gift: but I desire fruit that may 
abound to your account.
But I have all, and abound: I am full, 
having received of Epaphroditus the things 
which were sent from you, 
an odour of a sweet smell, a sacrifice acceptable, 
wellpleasing to God.
But my God shall supply all your need according to his 
riches in glory by Christ Jesus.
Now unto God and our Father be glory for ever and ever. 
Amen.
Salute every saint in Christ Jesus. 
The brethren which are with me greet you.
All the saints salute you, 
chiefly they that are of Caesar's household.
The grace of our Lord Jesus Christ be with you all. Amen.
Philippians 4:1-23 King James Version (KJV)
Of righteousness, because I go to my Father, 
and ye see me no more;
Of judgment, because the prince of this world is judged.
I have yet many things to say unto you, 
but ye cannot bear them now.
Howbeit when he, the Spirit of truth, is come, 
he will guide you into all truth: 
for he shall not speak of himself; 
but whatsoever he shall hear, that shall he speak: 
and he will shew you things to come.
He shall glorify me: for he shall receive of mine, 
and shall shew it unto you.
All things that the Father hath are mine: therefore said I, 
that he shall take of mine, and shall shew it unto you.
A little while, and ye shall not see me: 
and again, a little while, 
and ye shall see me, because I go to the Father.
John 16:10-16 King James Version (KJV)
Therefore prophesy and say, 
Thus saith the Lord God; 
Because they have made you desolate, 
and swallowed you up on every side, 
that ye might be a possession 
unto the residue of the heathen, 
and ye are taken up in the lips of talkers, 
and are an infamy of the people:
Ezekiel 36:3 King James Version (KJV)
Therefore, brethren, we are debtors, 
not to the flesh, to live after the flesh.
Romans 8:12 King James Version (KJV)
When he speaketh fair, believe him not: 
for there are seven abominations in his heart.
Whose hatred is covered by deceit, 
his wickedness shall be shewed 
before the whole congregation.
Proverbs 26:25-26 King James Version (KJV)
God bless you and keep you safe in Jesus Holy name.
# JesusGoesOnline, Dag Hoiland, Anytown, MA, God, Jesus, Holy Spirit, Gospel, Salvation, Jesus Christ, Gud, Frelse, Kristen webshop, demon, demons, T-Shirt High Quality, 
Categories: Pictures with Christian text.
/