Shopping Cart
Your Cart is Empty
There was an error with PayPal
Click here to try again
Thank you for your business!
You should be receiving an order confirmation from Paypal shortly.
Exit Shopping Cart
| | |
| --- | --- |
| Posted on June 19, 2016 at 3:32 PM | |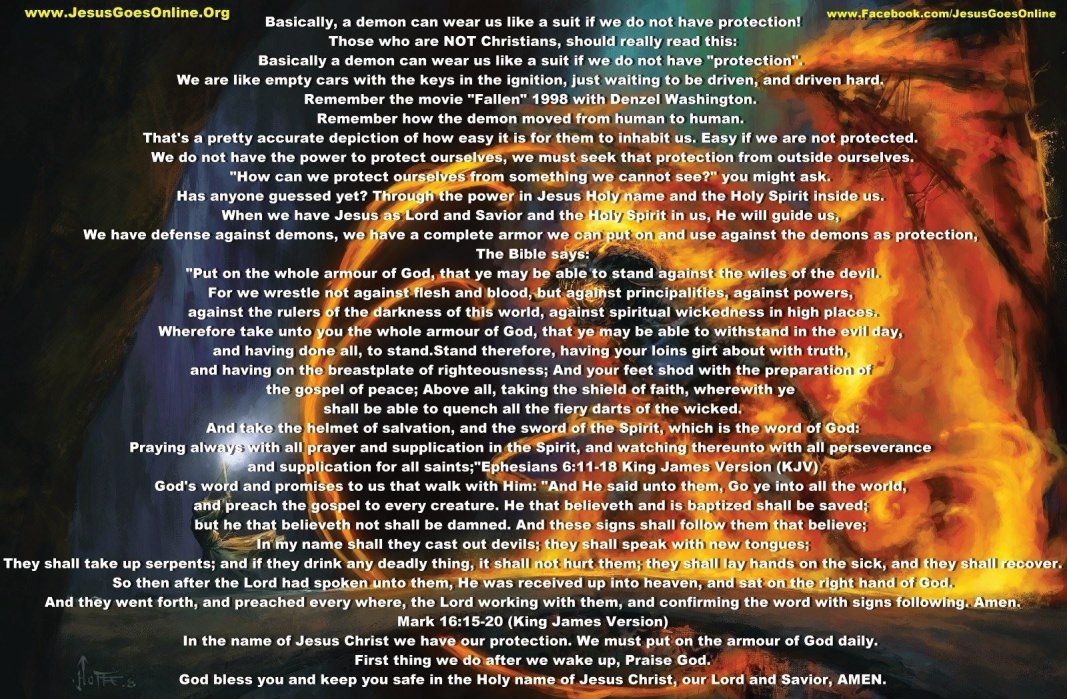 Basically, a demon can wear us like a suit 
if we do not have protection!
Those who are NOT Christians, should really read this:
Basically a demon can wear us like a suit 
if we do not have "protection". 
We are like empty cars with the keys in the ignition, 
just waiting to be driven, and driven hard. 
Remember the movie "Fallen" 1998 with Denzel Washington. 
Remember how the demon moved from human to human. 
That's a pretty accurate depiction of how easy it is for 
them to inhabit us. Easy if we are not protected. 
We do not have the power to protect ourselves,
we must seek that protection from outside ourselves.
"How can we protect ourselves from 
something we cannot see?" you might ask. 
Has anyone guessed yet? 
Through the power in Jesus Holy name and the Holy Spirit inside us. 
When we have Jesus as Lord and Savior and the Holy Spirit in us, 
He will guide us, We have defense against demons, 
we have a complete armor we can put on and 
use against the demons as protection, 
The Bible says:
"Put on the whole armour of God, that ye may be able 
to stand against the wiles of the devil.
For we wrestle not against flesh and blood, 
but against principalities, against powers, 
against the rulers of the darkness of this world, 
against spiritual wickedness in high places.
Wherefore take unto you the whole armour of God, 
that ye may be able to withstand in the evil day, 
and having done all, to stand.
Stand therefore, having your loins girt about with truth, 
and having on the breastplate of righteousness;
And your feet shod with the preparation of 
the gospel of peace;
Above all, taking the shield of faith, wherewith ye 
shall be able to quench all the fiery darts of the wicked.
And take the helmet of salvation, 
and the sword of the Spirit, which is the word of God:
Praying always with all prayer and supplication in the Spirit, 
and watching thereunto with all perseverance 
and supplication for all saints;"
Ephesians 6:11-18 King James Version (KJV)
God's word and promises to us that walk with Him:
"And He said unto them, Go ye into all the world, 
and preach the gospel to every creature.
He that believeth and is baptized shall be saved; 
but he that believeth not shall be damned.
And these signs shall follow them that believe; 
In my name shall they cast out devils; 
they shall speak with new tongues;
They shall take up serpents; and if they drink 
any deadly thing, it shall not hurt them; 
they shall lay hands on the sick, and they shall recover.
So then after the Lord had spoken unto them, 
He was received up into heaven, 
and sat on the right hand of God.
And they went forth, and preached every where, 
the Lord working with them, 
and confirming the word with signs following. Amen.
Mark 16:15-20 (King James Version)
In the name of Jesus Christ we have our protection. 
We must put on the armour of God daily. 
First thing we do after we wake up, Praise God.
God bless you and keep you safe in the Holy name 
of Jesus Christ, our Lord and Savior, AMEN.
# JesusGoesOnline, Dag Hoiland, Anytown, MA, God, Jesus, Holy Spirit, Gospel, Salvation, Jesus Christ, Gud, Frelse, Kristen webshop, demon, demons, T-Shirt High Quality, 
Categories: Pictures with Christian text.
/