Shopping Cart
Your Cart is Empty
There was an error with PayPal
Click here to try again
Thank you for your business!
You should be receiving an order confirmation from Paypal shortly.
Exit Shopping Cart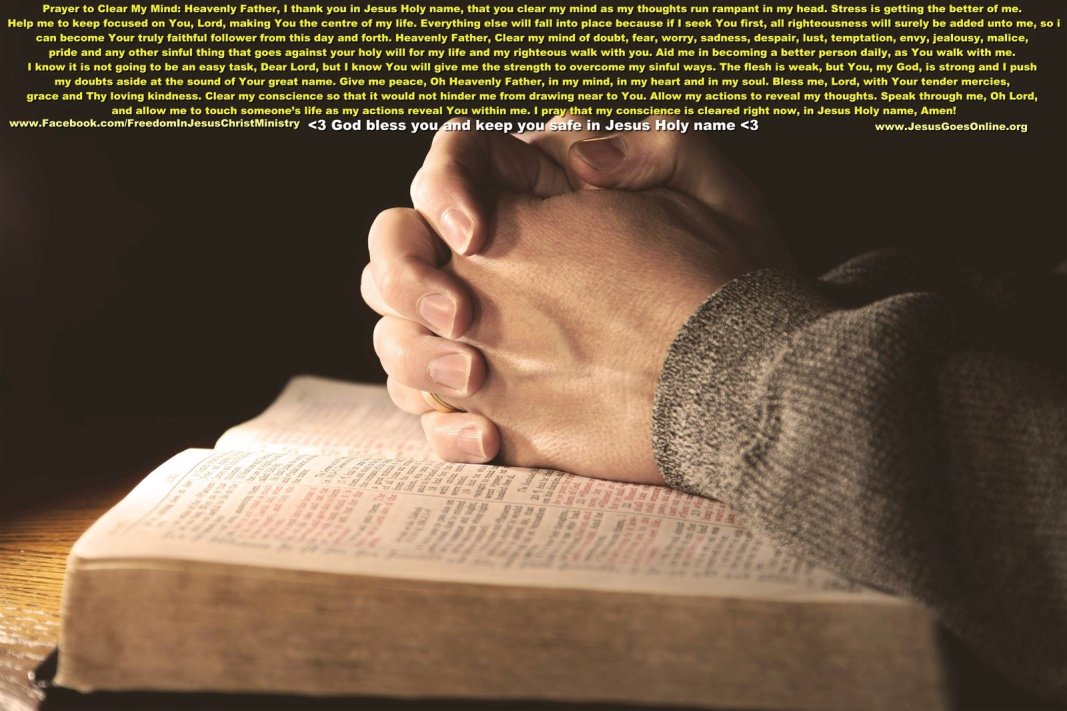 Prayer to Clear My Mind:
Heavenly Father, I thank you in Jesus Holy name, 
that you clear my mind as my thoughts 
run rampant in my head. 
Stress is getting the better of me. 
Help me to keep focused on You, 
Lord, making You the centre of my life. 
Everything else will fall into place 
because if I seek You first, 
all righteousness will surely be added unto me, 
so i can become Your truly faithful 
follower from this day and forth.
"And herein do I exercise myself, to have always a 
conscience void to offence toward God, and toward men." 
Acts 24:16 King James Version (KJV)
Heavenly Father, Clear my mind of doubt, fear, worry, 
sadness, despair, lust, temptation, envy, jealousy, malice, 
pride and any other sinful thing that goes against your 
holy will for my life and my righteous walk with you.
Aid me in becoming a better person daily, 
as You walk with me. 
I know it is not going to be an easy task, Dear Lord, 
but I know You will give me the strength 
to overcome my sinful ways.
The flesh is weak, but You, my God, 
is strong and I push my doubts aside 
at the sound of Your great name.
"Do all things without murmurings and disputings:
That ye may be blameless and harmless, 
the sons of God, without rebuke, 
in the midst of a crooked and perverse nation, 
among whom ye shine as lights in the world;" 
Philippians 2:14-15 King James Version (KJV)
Give me peace, Oh Heavenly Father, in my mind, 
in my heart and in my soul. Bless me, 
Lord, with Your tender mercies, 
grace and Thy loving kindness. 
Clear my conscience so that it would not 
hinder me from drawing near to You. 
Allow my actions to reveal my thoughts. 
Speak through me, Oh Lord, 
and allow me to touch someone's life as 
my actions reveal You within me. 
I pray that my conscience is cleared right now, 
in Jesus Holy name, Amen!
"Blessed is he whose transgression is forgiven, 
whose sin is covered. 
Blessed is the man unto whom 
the Lord imputeth not iniquity, 
and in whose spirit there is no guile."
Psalm 32:1-2 King James Version (KJV)
<3 God bless you and keep you safe in Jesus Holy name <3
Jesus, Jesus saves, Jesus is Lord, Holy Spirit, JesusGoesOnline, Dag Hoiland, Anytown, 
MA, God, Gospel, Salvation, Jesus Christ, Gud, Frelse, Kristen webshop, demon, demons, 
T-Shirt High Quality,  serve God, we serve God, the Philippines, Nigeria, Kenya, Uganda, Indonesia, Norge, Norway, Sverige, Sweden, DagHöiland, Dag Høiland, www.Facebook.com, Facebook, Viet-Nam, Viet Nam, www.Facebook.com/FreedomInJesusChristMinistry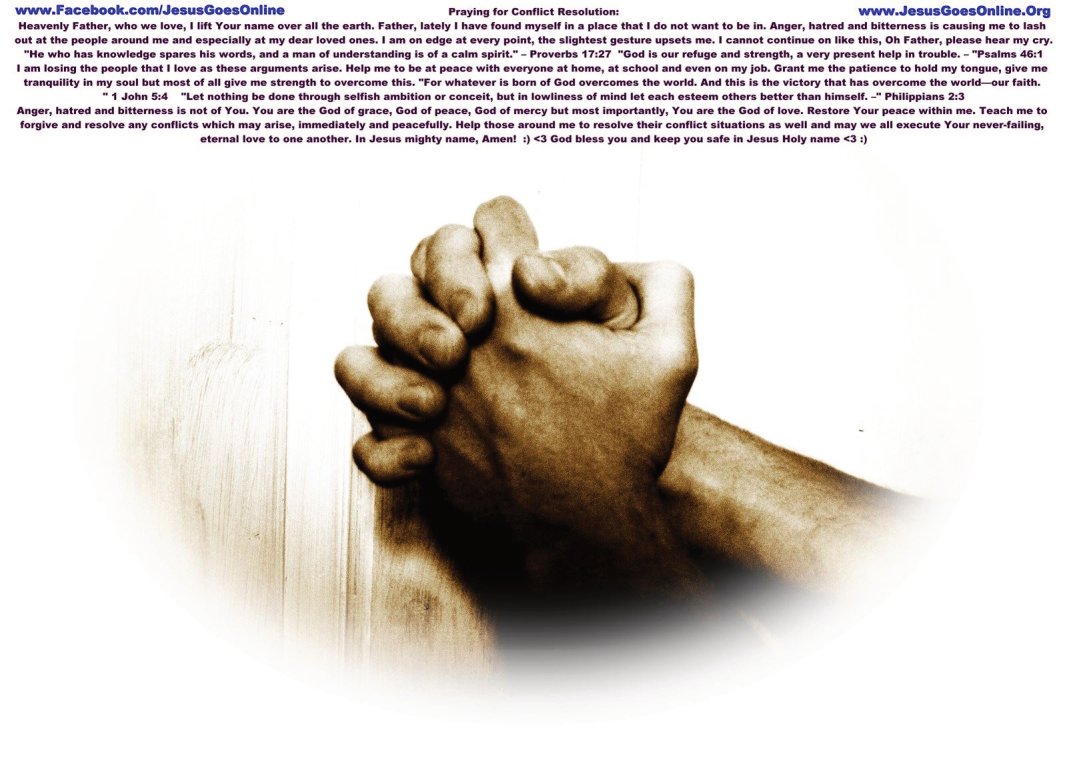 Praying for Conflict Resolution:
Heavenly Father, who we love, 
I lift Your name over all 
the earth. Father, lately I have found myself 
in a place that I do not want to be in. 
Anger, hatred and bitterness is causing me 
to lash out at the people around me and 
especially at my dear loved ones. 
I am on edge at every point, 
the slightest gesture upsets me. 
I cannot continue on like this, 
Oh Father, please hear my cry.
"He who has knowledge spares his words, 
and a man of understanding is of a calm spirit." 
Proverbs 17:27
"God is our refuge and strength, 
a very present help in trouble." 
Psalms 46:1
I am losing the people that I love as these 
arguments arise. Help me to be at peace 
with everyone at home, at school 
and even on my job. 
Grant me the patience to hold my tongue, 
give me tranquility in my soul but most of all 
give me strength to overcome this.
"For whatever is born of God overcomes the world. 
And this is the victory that has overcome 
the world—our faith." 
1 John 5:4
"Let nothing be done through selfish ambition or conceit, 
but in lowliness of mind let each esteem others better than himself." 
Philippians 2:3
Anger, hatred and bitterness is not of You. 
You are the God of grace, God of peace, 
God of mercy but most importantly, 
You are the God of love. Restore Your 
peace within me. 
Teach me to forgive and resolve any conflicts 
which may arise, immediately and peacefully. 
Help those around me to resolve their conflict situations 
as well and may we all execute 
Your never-failing, eternal love to one another. 
In Jesus mighty name, Amen!
<3 God bless you and keep you safe in Jesus Holy name <3
Jesus, Jesus saves, Jesus is Lord, Holy Spirit, JesusGoesOnline, Dag Hoiland, Anytown, 
MA, God, Gospel, Salvation, Jesus Christ, Gud, Frelse, Kristen webshop, demon, demons, 
T-Shirt High Quality,  serve God, we serve God, the Philippines, Nigeria, Kenya, Uganda, Indonesia, Norge, Norway, Sverige, Sweden, DagHöiland, Dag Høiland, www.Facebook.com, Facebook,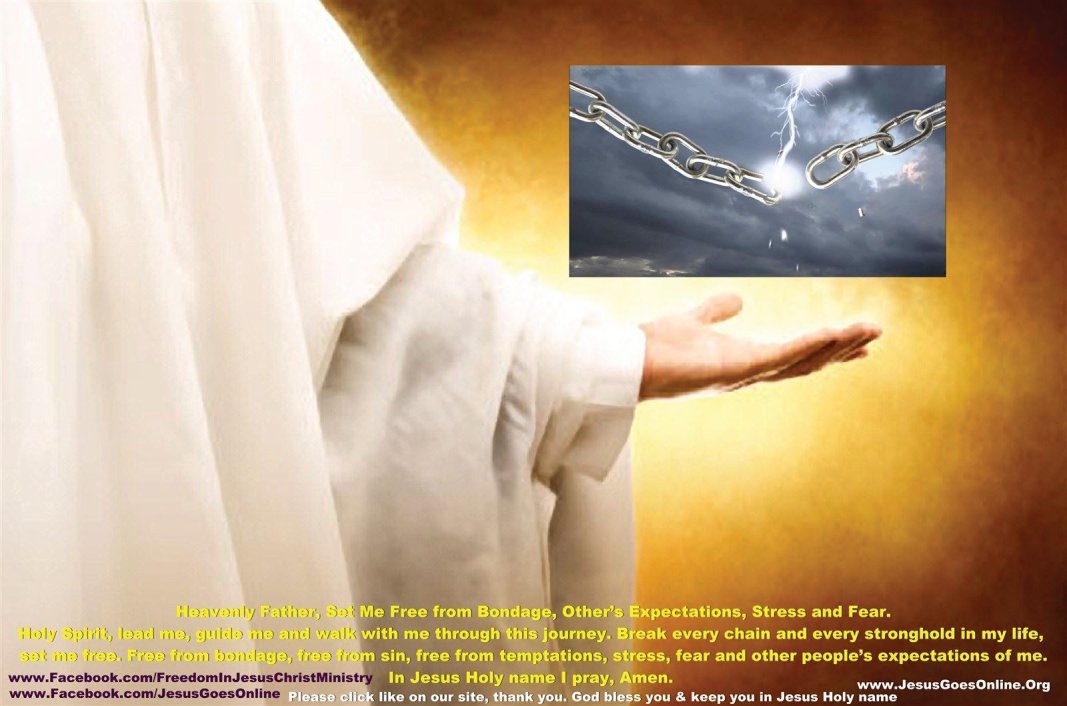 Heavenly Father, Set Me Free from Bondage, 
Other's Expectations, Stress and Fear.
Holy Spirit, lead me, guide me and 
walk with me through this journey. 
Break every chain and every stronghold in my life, 
set me free. Free from bondage, free from sin, 
free from temptations, stress, 
fear and other people's expectations of me. 
Let me prove them wrong, 
may them see a good work in me and glorify You.
"For ye have not received the spirit of bondage again to fear; 
but ye have received the Spirit of adoption, 
whereby we cry, Abba, Father." 
Romans 8:15 King James Version (KJV)
Lord, knowing You are always near, 
I break free of every negative thought, 
word or action directed at me. 
I declare I am victorious through Christ Jesus, 
who is my strength, my fortress and my strong tower. 
Lord, raise me up to overcome everything 
that tries to pull me away from You.
"Forasmuch then as the children 
are partakers of flesh and blood, 
he also himself likewise took part of the same; 
that through death he might destroy 
him that had the power of death, 
that is, the devil; And deliver them who through 
fear of death were all their lifetime subject to bondage."
Hebrews 2:14-15 King James Version (KJV)
Heavenly Father, replace my fear with strong faith. 
Replace my worry with mighty hope. 
Replace my despair with unspeakable joy. 
Lead me to that inner peace that can only be found in You, 
my Lord and Savior. 
Today, those chains of negativity are broken and I am free, 
in Jesus' Mighty name, amen!
"For the creature was made subject to vanity, not willingly, 
but by reason of him who hath subjected the same in hope,
Because the creature itself also shall be delivered from the 
bondage of corruption into the glorious liberty of 
the children of God." 
Romans 8:20-21 King James Version (KJV)
"Stand fast therefore in the liberty 
wherewith Christ hath made us free, 
and be not entangled again with the yoke of bondage."
Galatians 5:1 King James Version (KJV)
Lord, raise me up to overcome everything 
that tries to pull me away from You.
In Jesus Holy name I pray, Amen.
<3 God bless you and keep you safe in Jesus Holy name <3 :)
#Jesus #Jesus saves #Jesus is Lord #Holy Spirit #JesusGoesOnline, #Dag Hoiland, #Anytown, #MA, #God, #Gospel, #Salvation, #Jesus Christ, #Gud, #Frelse, #Kristen webshop, #demon, #demons, #T-Shirt High Quality, 
#serve God, #we serve God
/